About the Strategy
Building on CITIC Securities' edges in China market, CLSA China growth strategy (the "Strategy") is a USD Private Equity strategy designed for global investors who wish to tap into China's primary markets. The Strategy invests in companies with the potential for rapid growth in burgeoning sectors of strategic importance in the world's second-largest economy.
With unparalleled China-market resources dedicated to the Strategy, it is well positioned to become a one-stop-shop for identifying highly sought-after investment opportunities and achieving superior returns for global investors in an ever-changing landscape.
Investment Strategy
Featuring a consistent investment philosophy the Strategy invests in leading players in verticals of target sectors, including healthcare, TMT, smart manufacturing and renewable energies. The Strategy identifies and invests in best-in-class deal pipeline using its sophisticated methodology, and identified investments then go through a strict screening process.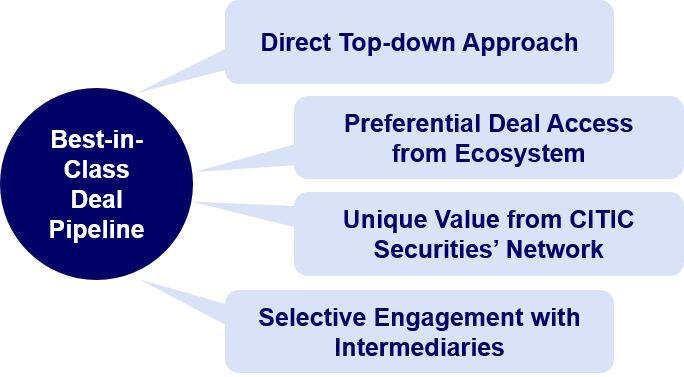 The CLSA China Growth Strategy has an IPO-oriented exit strategy. It is well positioned to invest in portfolio companies with IPO potentials, have meaningful participation in the strategic development of the business and focus on paths to exit, and seek realisation of investments primarily through listing in A-share or Hong Kong capital market.